Pharmexpert
Simple solutions to complex problems
About The Program
PharmExpert automates the pharmacy inventory control.
Thousands of pharmacies of Russian regions have joined this program and trust it. For you – it is a straightforward and user-friendly program. For us – it is software based on modern technologies of data protection even though all the computers are stolen or broken. Customer convenience is the priority for PharmExpert.
PharmExpert matches pharmacy´s goods catalogues and eliminates duplicates and errors.
The switch over to PharmExpert will take 2 hours and run in off-hours of pharmacies.
We are open to cooperation and glad to share our experience with you to introduce the best practices in our country.

Automated order
The automated ordering system saves your working hours.

Goods catalogue
We provide the unified data catalogue for pharmacies and manage its matching.

Automated reporting
Report designer, multilevel analytics, online reports for state authorities.

Technical support
Daily technical support and advice are available through MLT and Internet (Skype, Viber and ICQ).

A pharmacy or a chain
We can automate any business logic both large pharmacy chains and individual pharmacies.

Experience since 2010
Task solutions for our customers have been honed to perfection over the years and are implemented by efficient ways.
Assess our facilities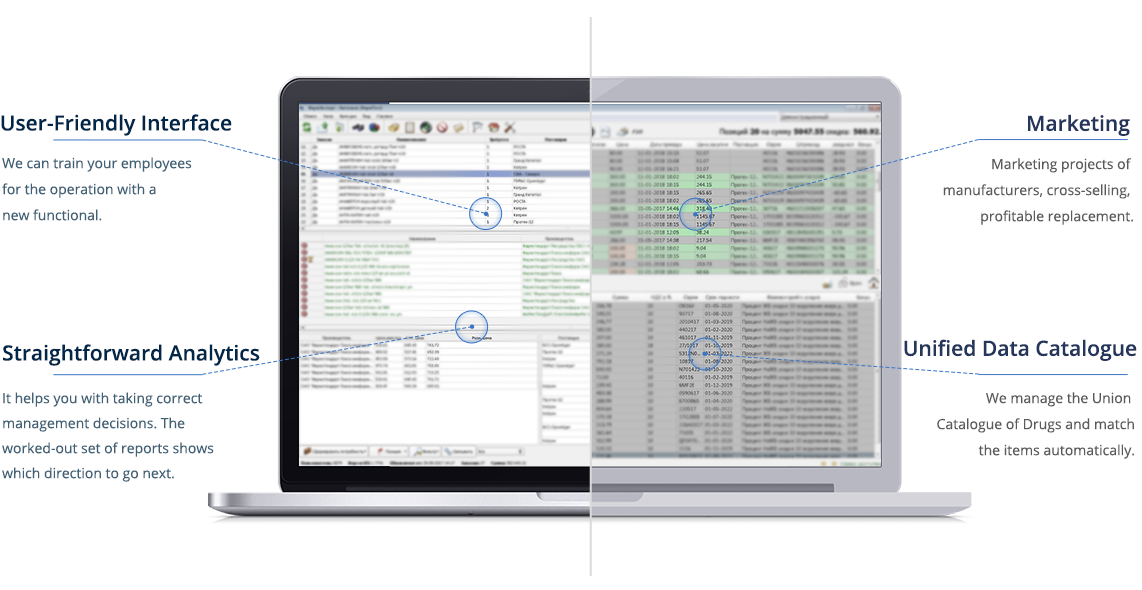 Our clients
Read what our customers say about us or send us your feedback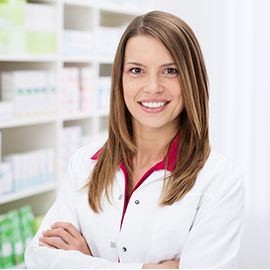 Psjanchina Aigul Mansafovna
"Pharmmed"pharmacy chain
It was a revelation to me thanks PharmExpert that let me see the real situation with stock of our pharmacy chain. We managed to cut down the nonconvertible stock in each pharmacy from 800 000 RUB up to ca. 250 000 RUB and still keep optimizing our stock. PharmExpert is a key took for pharmacy chain managers in a current market situation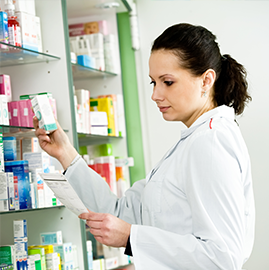 Sosikova Olga Ivanovna
"Salvia" pharmacy chain
We have 15 year work experience in pharmacy and have used several programs, so it is safe to say that PharmExpert is the most convenient and complete software program for pharmacies. With its support we have optimized our work, cut down costs, received user-friendly control and management tools. The program interface is easy to use, so our employees work with it without any difficulty. The technical support service do their job on top level. They are very considerate to our requests, monitor changing laws and improve PharmExpert according to the changes.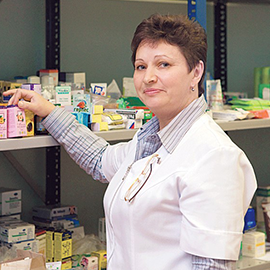 Gurjanova Anna Yevgenjevna
"Kluch Zdorovja"pharmacy chain
I have been working with PharmExpert program for over 3 years. It is a convenient functional for newly opened pharmacies. The technical support lend their assistance on top and respond even outside office hours.

Still have questions?
If you have more questions, please, contact our support team.
You can call us, send us an email or fill in a contact form on our website.
We are here to help you!

support@infoas.biz

8 800 333 54 12