Drug search in pharmacies – "Mir aptek" application.
Reference resource – drug availability and price in different pharmacies, drug annotations, information of analogue drugs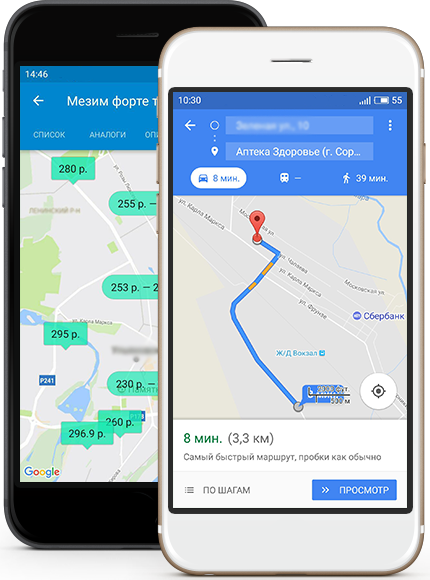 Application features
If you are a user of this application:

Price Scan
Effective prices of your city pharmacies are displayed on the city map. You can see the lowest price.

Search On A Map
It detects your current location on map and shows tracking to the next-door pharmacy. You can see the closest one to you.

Cost Saving In Drugs
Choose your best price! Buy always drugs in the pharmacy with the lowest prices.

Real-Time Data
Price information of drugs is regularly updated and corresponds with the current price in the pharmacy.

Drug Annotations
Detailed description of drugs and instruction for use.

Information Of Analogue Drugs
You can find analogue drug which is compositionally similar, but for the better price.
If you are a pharmacy owner:

Data Protection
Our clients' data are effectively protected against information leak and breach of data.

Product Promotion
Inform as many people as you can about an assortment of your pharmacy.

Sales Boost
Available for iOS, Android and Browser. We help pharmacies to promote their products.

Technical Support
Daily technical support and advice are available through MLT and Internet (Skype, Viber and ICQ).

The first 6 month are free!
We register your pharmacy in the catalogue "Mir Aptek" for free for 6 months.

Your clients will find you
The application maps a route to your pharmacy: More customers will be informed about your product.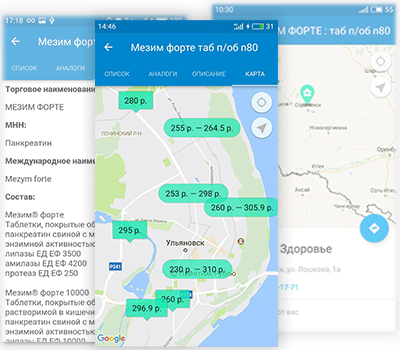 Add your pharmacy into "Mir aptek"
Reference resource Mir Aptek was a pilot project in mobile applications and web-programming in the beginning. Now Mir Aptek has been developed to convenient and regularly used service. Everyone can join it: You can place information of your products on offer or you can download a mobile application to search drugs.
Application Functions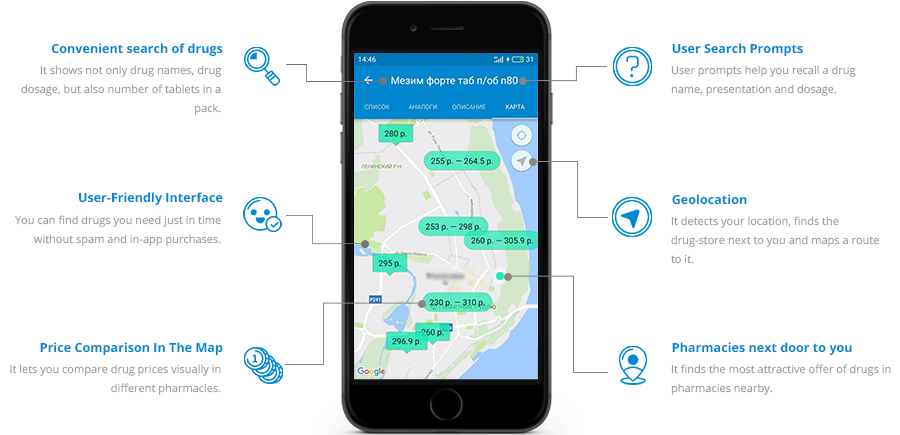 Screenshots